48" 17#@24" Camo riser with Green Glass with Compton Emblem Lil Rapids Youth Longbow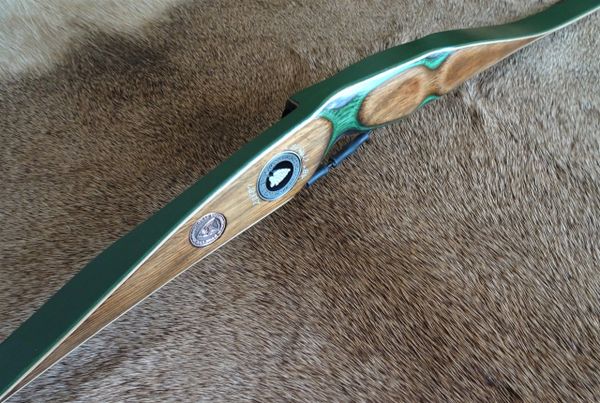 48" 17#@24" Camo riser with Green Glass with Compton Emblem Lil Rapids Youth Longbow
48" 17#@24" Camo riser with Green Glass Lil Rapids Right handed Youth Longbow
$175.00
48" Lil Rapids youth longbow Camo (Olive Green, Brown, Charcoal Gray) striped actionwood riser. Arrowhead style tips are camo actionwood and green and black fiberglass striped together and are fast-flight ready. Limbs are American elm core under green fiberglass. This bow already has the Compton emblem installed due to a snafu with USPS (It's a long story LOL) Satin Thunderbird finish.
 Righ
t-handed
. 17#@24" 
D97 12 strand string included. 
OUR 48" LIL RAPIDS YOUTH LONGBOWS USUALLY FIT 5-9 YEAR OLD CHILDREN. PLEASE MEASURE YOUR CHILD'S DRAW LENGTH TO MAKE SURE THIS BOW IS A GOOD FIT. See the Picture on how to do this. THEY ARE NOT INTENDED TO BE DRAWN OVER 24"
For more info or pictures call or email. 
This is a new instock bow with full warranty and eligible for the trade-in and 
trade-up.
Compton emblem inlay may delay shipping up to 5 days. 
Featured Products