46" 10#@22" Lefty "Tiger stripe" with Compton Emblem Lil Rapids Youth Longbow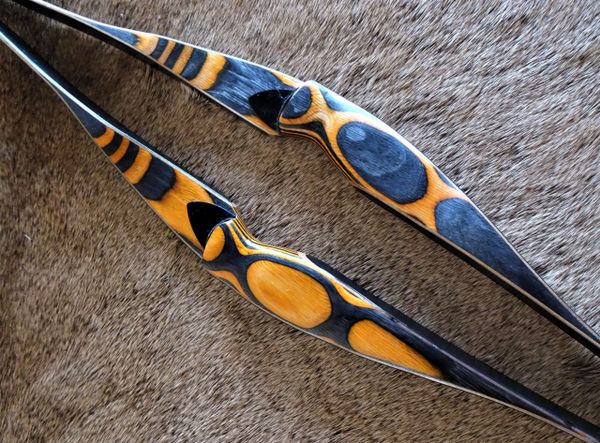 46" 10#@22" Lefty "Tiger stripe" with Compton Emblem Lil Rapids Youth Longbow
46" 10#@22" Left Handed "Tiger stripe" Orange and Black Lil Rapids (Formerly Otter) Youth Longbow
$175.00
46" Lil Rapids Youth Longbow with orange and black striped riser. Limbs have working-wood American ash core wood under black fiberglass. Arrowhead style orange and black tips that match riser. Due to the the need for an exchange this bow already has a Compton emblem installed. 
Left-handed

. Satin Thunderbird finish. 10#@22"  Not designed to be draw beyond 22". 

D97 12 strand string that matches the bow included. 

During the Christmas shipping season we ship Signature Required on all bows. We apologize for any inconvenience but it is necessary.


The 46" LIL RAPIDS YOUTH LONGBOWS USUALLY FIT 3-6 YEAR OLD CHILDREN. PLEASE MEASURE YOUR CHILD'S DRAW LENGTH TO MAKE SURE THIS BOW IS A GOOD FIT. See the pic on how to do this easily. THEY ARE NOT INTENDED TO BE DRAWN OVER 22"
This is a new instock bow with a full warranty and eligible for our trade-in and trade-up program.
Call or email for more info or pics.

This sale is for left handed bow in pic only.






Featured Products